VJ Day Party Ideas
Give
VJ Day 2020
the celebration it deserves and make this year's event one to remember! If you're hosting a VJ Day event and looking for some inspiration, find a range of party ideas on this page.
Click here
to view our full range of VJ Day party supplies, decorations and accessories.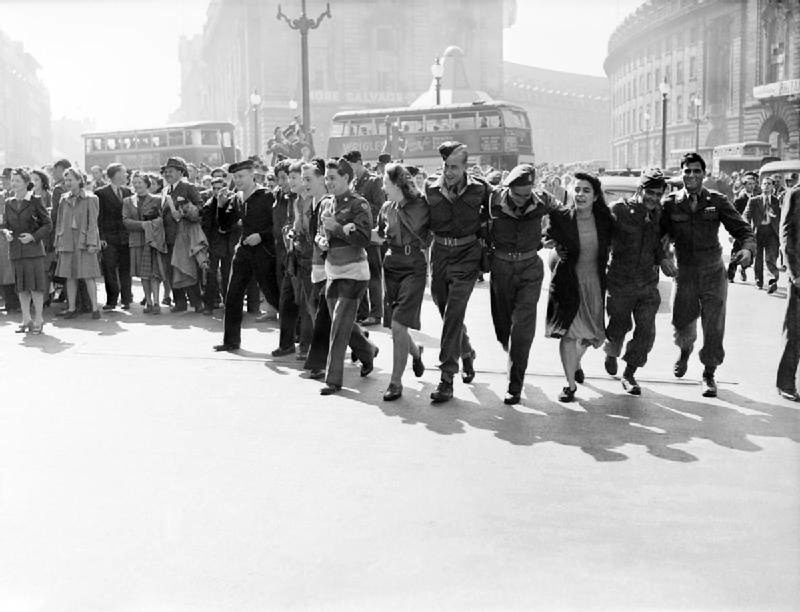 Why do we celebrate VJ Day?
15 August 2020
 is the
75th Anniversary
of
VJ Day
. This special and important commemorative day in history marks
75 years
since the
surrender of Japan
and the end of the
Second World War
in
1945
.
What better time for a celebration than a summer weekend in August?
VJ Day 2020
is a great opportunity to get together with your friends, family and loved ones to reflect on the huge sacrifices made by the people of the time, including service men, service women and all those affected by
WWII
.
In 1945, the end of war was marked by a two-day holiday in the UK, the USA and Australia. In London, historic buildings were floodlit and people took to the streets in large crowds to celebrate with singing, dancing and fireworks.
VJ Day 75 2020 Party Ideas 
We've put together a list of the best themes and party ideas with
decorations
and
accessories
hand-picked to make your
VJ Day
celebration extra special. Dress up any party space and add those all important finishing touches to your  event with the help of our
VJ Day Party ideas
blog!
VJ Day Party Ideas | Street Party

 With the lockdown restrictions being lifted gradually since VE Day 2020 on the 8th May, there is more opportunity to get together with loved ones and neighbours to celebrate VJ Day 2020 responsibly whilst staying within the government guidelines.
Socially distanced street parties and garden BBQ's with a bubble of friends and family are a great way to mark the occasion, especially if the sun stays shining. VJ Day is something everybody can get involved with, young or old! Invite your community to share good times together, bridge the gap between the generations and have some fun.

Rain or shine, at Party Packs we have everything you need to decoration your outdoor venue for VJ Day 2020. Think bunting, banners and streamers in red, white and blue!

Below are some links to our best weather resistant VJ Day bunting for outdoor parties and celebrations:
It wouldn't be a patriotic celebration without Union Jacks! Create a truly British feel with this all weather United Kingdom flag bunting. String up across the garden and decorate the front of your home or venue to show solidarity and unity with your neighbours, friends and family on VJ Day. 
Red, White & Blue Outdoor Bunting
Triangular bunting is a great choice for VJ Day. Set a red, white and blue colour scheme. This durable bunting is weather resistant so you don't need to worry about the chance of scattered showers! Measuring 9.15m, this bunting creates an impressive display hung from any building or marquee.
A great choice if you're on a budget, get your money's worth with this economy outdoor bunting! Featuring a 10m string of triangular flags in red, white and blue.
VJ Day Party Ideas | BBQ or Picnic
No VJ Day street party, BBQ or garden celebration is complete without a picnic style feast of tasty treats or tea and cake! To get your spread of party food set up, you'll be needing tableware!

Here is a selection of our favourite VJ Day tableware and table accessories:
VJ Day Plates, Napkins & Cups 
Set the theme for
VJ Day 75
with Union Jack printed cups, plates and napkins. This cheery British tableware is disposable and fuss free, making tidying up a breeze. Great for outdoor snacks, drink and slices of cake. Share a toast with your friends and family to celebrate 75 years!
VJ Day Cutlery
Match your cutlery to the colour scheme with these red, white and blue disposable forks, knives and spoons. 
VJ Day Food Boxes 
Serve up a delicious spread of party food for VJ Day 2020 with these Union Jack themed food boxes. Ideal for picnics and BBQs!
VJ Day Table Flags 
Choose from a selection of VJ Day flags to decorate the party table! 
VJ Day Party Ideas | Decorate your home or venue
Dress up your home to make VJ Day 2020 a special occasion. Rain or shine, at Party Packs, we've got everything you need to celebrate 75 years since WWII. A perfect alternative to a socially-distanced street party with your neighbours, indoor VJ Day celebrations are also a great way to have some fun and change up the normal routine if you're sticking to your own household or self-isolating. Make the day special by transforming your home with an array of decorations.
VJ Day Party Ideas | Games & Activities Day
Make learning the history of VJ Day fun with a wartime themed games and activities day! There are plenty of ways to learn all about the significance of WWII. This party theme is perfect for kids. Start by decorating your home, venue, classroom or space of your choice with vintage posters and wartime memorabilia. Then get stuck in to some VJ Day crafts and activities!
Here are a few ideas for educational and fun activities for kids on VJ Day:
Design your own wartime themed poster:
Get artistic and create vintage signs like this Kitchener poster and propaganda messages iconic to the wartime era!
Decorate and fill up wartime ration boxes:
Imagine the life of a WWII evacuee with these miniature ration boxes. Great for filling up with sweets and treats.
Liven up the party with model aeroplanes:
These twin wing glider planes are perfect for VJ Day themed games and fun. 
VJ Day Party Ideas | Fancy Dress 

No VJ Day celebration is complete without some fancy dress or novelties! Choose from a selection of party favours to decorate the table or go all out with a wartime themed fancy dress costume. Transform into a fighter pilot, evacuee or land girl as a tribute to the 1940's era.
With everything from decorations, accessories and tableware to fancy dress and novelties, at Party Packs we have everything you need to make your VJ Day 2020 celebration a success. Click
here
 to view our full range of VJ Day party supplies!